Welcome / Introduction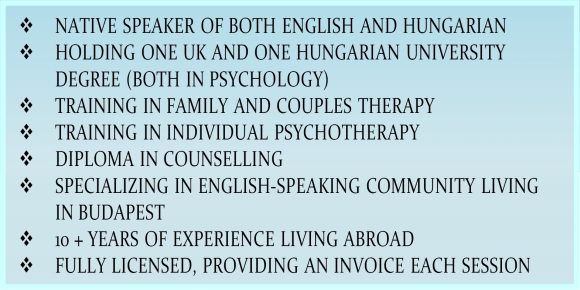 I am an expat myself, working as a Psychologist by providing Psychological Counselling to those members of the English-speaking community living in Hungary who feel they might benefit from it. Having spent 10+ years living abroad in many different countries and therefore having international cultural fluency, I have first hand experience and a deep-rooted insight into the types of difficulties strangers face in a foreign country (e.g. the feeling of isolation, being far away from one's friends and family, estrangement, the difficulties of social and cultural adjustment etc). Hungarians are also welcome.
I earned both my Bachelor's Degree and my Diploma in Counselling in Liverpool, and my Master's degree in Hungary. I am currently enrolled in vocational training for Integrative Psychotherapy as well as vocational training in Family and Couples Therapy, and attend many Psychology conferences and lectures.